Portuguese Voice Over Services
PORTUGUESE VOICE OVER SERVICES 

COMMERCIALS, DUBBING, NARRATION
Looking for Portuguese Voice Over Services? Do you need the best Portuguese Voice Over Talent for your project? Need voice over for a commercial? Actors for dubbing a cartoon? Look no further!
We love working on voice over projects, thanks to our premium database of Portuguese voice over artists, you are sure to find exactly what you need for your commercial, some of our voice over clients include such big brands as Pandora or Nestlé
Aside from commercial voice over, we also love working on cartoon dubbing, our experienced directors apply all their knowledge in directing talent on film into these projects, thus bringing out the best of the actors who therefore deliver enthusiastic and memorable performances.
LEARN MORE ABOUT OUR RECORDING STUDIO
We are very proud to have in our database the very best and recognized Portuguese actors who will therefore be a fantastic add-on to your project. Having such names under your project will help the marketing and promoting of the project immensely.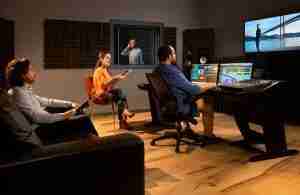 The recording studio is at a convenient location and it's fully equipped to record voice over, narration, dubbing, ADR, podcasts, video game audio, soundtrack composing, and VR audio. Whether you are recording with us face to face or connected remotely, we'll help you achieve the perfect sound for your project. Relax in our comfortable studio and have a productive time.
Proof that voice acting has gained a foothold in popular culture, is witnessed by the fact that popular series and animation films have been luring stronger and stronger voice talent. When it comes to features, Disney's English-language dubs of Miyazaki's award-winning films (including Nausicaa of the Valley of the Wind, Kiki's Delivery Service and the Oscar-winning Spirited Away) have attracted top-notch Hollywood actors such as Michael Keaton, Uma Thurman, Daveigh Chase, Michael Chiklis, Peter Boyle, Cary Elwes, Anne Hathaway and a slew of others.
If you have any specific question regarding the recording studio or our voice over services, get in touch and we will get back to you as soon as possible!
JOIN US TODAY AND FIND THE BEST PORTUGUESE VOICE OVER TALENT FOR YOUR PROJECT!
Creative Agency Film Production Film Services Location Scouting Production Company Video Company Video Production Video Services