Video Services in Algarve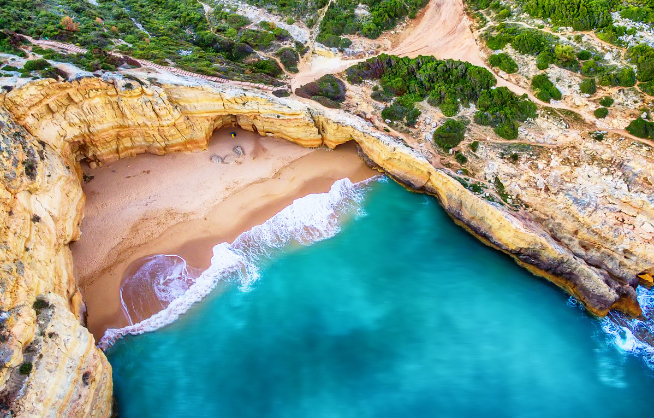 Looking for a film and video production company in Algarve? Do you need any kind of branding, film or video services in Algarve? Shooting a movie or a commercial? Need video coverage for your event? Look no further!
Immersed in the captivating realm of Algarve, our projects flourish against a backdrop that resonates with history, culture, and natural splendor. Beyond its breathtaking landscapes and awe-inspiring architecture, Algarve pulses with a dynamic energy, hosting grand conferences and bustling events that beckon for exceptional video and production services.
It was on this very land, back in the 15th century, that intrepid Portuguese explorers embarked on their epochal voyage, unraveling the tapestry of diverse cultures and civilizations. Today, Algarve stands as a hospitable haven for an array of visitors, lured not only by its rich heritage but also by the perpetual embrace of mild, sun-kissed weather.
Beaches of unparalleled excellence stretch as far as the horizon allows, adorned by golden cliffs that frame the coastline like nature's artwork. Tranquil islands punctuate the boundary between Ria Formosa and the azure sea, while secluded coves nestle against rocky alcoves. The ocean, painted in myriad shades of blue, extends an invitation for leisurely swims and aquatic pursuits, its temperate embrace soothing and inviting.
Yet, Algarve's allure isn't confined to its shoreline. In its mountains, a harmonious coexistence with nature thrives, nurturing time-honored traditions eagerly shared with those who seek an authentic connection. Urban tapestries unfold as well – Silves narrates an Arab-infused history, Lagos echoes with the echoes of the Age of Discoveries. Portimão and Albufeira pulse with cosmopolitan energy both day and night, while Tavira stands as a testament to cherished architectural heritage. Faro, the region's gateway, invites exploration of its historically rich heart.
For moments of repose, indulgence awaits at spas, thalassotherapy centers, and the rejuvenating Monchique Thermal Baths. Golf enthusiasts find their haven in internationally acclaimed courses, harmonizing exercise with breathtaking vistas. Accommodations span the spectrum, from unpretentious hotels to lavish resorts, all bound by a genuine passion for hospitality.
The Algarve unfolds further through a network of footpaths and cycling trails, including the scenic Algarve Way and the pristine Vicentine Route tracing the coastline. Embarking on ecologically mindful boat rides unveils the region's diverse flora and fauna, an immersive communion with nature.
Savoring Algarve extends to its culinary offerings – succulent seafood and freshly caught fish take center stage, whether grilled to perfection or presented in delectable casseroles. A symphony of flavors awaits, from humble beachside terraces to refined Michelin-starred establishments, where masterful chefs reframe traditional fare into contemporary artistry. These culinary odysseys stand as indispensable encounters during your Algarve sojourn.
For those in pursuit of premier branding, film, and video services in Algarve, your search finds its culmination here.
Creative Agency Film Production Film Services Location Scouting Production Company Video Company Video Production Video Services