Video Services in Porto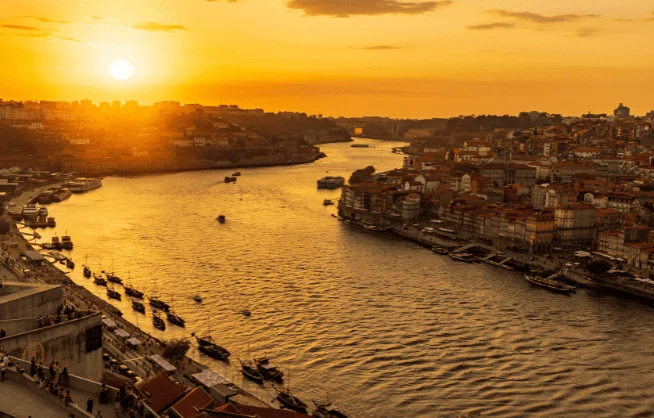 Looking for a film and video production company in Porto? Do you need any kind of branding, film or video services in Porto? Shooting a movie or a commercial? Need video coverage for your event? Look no further!
Immersed in the vibrant tapestry of Porto, our ventures find a unique canvas against the backdrop of its breathtaking landscapes and architectural marvels. Beyond its aesthetic allure lies a city pulsating with a dynamic rhythm of activity, where grand conferences and bustling events converge, all with an insatiable appetite for top-tier video and production services.
Nestled along the serpentine embrace of the Douro River, Porto emerges as an enigmatic gem within Europe's treasure trove of destinations. A living testament to history, its medieval architecture narrates tales of bygone eras, the iconic Dom Luis I Bridge etches itself into memory, and Art Nouveau cafes invite one to indulge in nostalgia. Here, the city's embrace is wide enough to embrace every taste and preference.
The heartstrings of both locals and newcomers alike have been captivated by Porto's irresistible allure, beckoning them to seek an elevated quality of life within its charismatic confines. This magnetic attraction is no mere coincidence; 'Invicta,' its moniker, stands firm, having clinched the title of European Best Destination three times (in 2012, 2014, and 2017).
Just a short while ago, swathes of the city, particularly its historic nucleus, languished in abandonment and obscurity. Dilapidated structures and a rising tide of bankrupt enterprises testified to this neglect. Yet, a substantial infusion of investment breathed new life into the city's core, coupled with an exponential surge in tourism. Porto underwent a metamorphosis, shedding its old skin to unveil a vivacious persona—a meticulously rejuvenated historic center pulsating with cultural verve. The prospect of residing in Porto is now nothing short of magnetic.
Such transformative undertakings magnetized a tide of individuals, forming the bedrock of the city's burgeoning popularity. However, the intrigue does not cease here. A multitude of factors contributes to Porto's newfound allure, crafting an appealing tapestry of reasons to call this city home.
If your quest leads you to Porto's shores in search of unrivaled branding, film, and video services, your search culminates here.
Creative Agency Film Production Film Services Location Scouting Production Company Video Company Video Production Video Services